Colder Temperatures Could Make An Impact On Your Pipes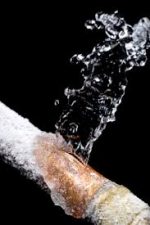 FRIDAY – DECEMBER 10, 2021
The National Weather Service in Sacramento is predicting a major winter storm to produce significant amounts of mountain snow late Saturday – midweek. Mountain travel is highly discouraged during this time! If you have travel plans, now is the time to prepare for hazardous winter travel conditions & major delays. Along with the colder storm system, the Mother Lode region could see temperatures drop into the upper 20's by Tuesday night, December 14th. Freezing temperatures can result in broken pipes or leave homeowners without water.
If you have not taken steps to prepare for freezing temperatures, Tuolumne Utilities District (TUD) would like to remind you of precautionary steps that will help you protect your home and property from cold winter conditions, and prevent pipes from freezing.
For tips on how to protect your home in winter, download this pdf, Winterize Your Home.